Stay in the Adirondacks
Garnet Hill Lodge is centered around a historic log house. Featuring rustic charm and comfortable accommodations, the Log House is located on a hillside, overlooking pristine 13th lake. In addition to the guest rooms located in this charming main building, we also offer guest rooms in our two campus cottages, Tea House and The Birches, which are nestled in the woods a short distance from the Log House.
What's Included With My Stay?
At Garnet Hill, breakfast and resort access are always included.  In the spring, summer and fall, this means full access to the Garnet Hill beach and our trail system, as well as complimentary use of our rental bikes, canoes and kayaks.  In the winter, this means your cross country and snowshoe trail passes are included, allowing you to ski out the front door.  Check out our What's Happening page for information about guided hikes, kayak tours and moonlight snowshoe tours.  These are part of our Discover Garnet Hill series and free for guests. We have a two-night minimum stay on most weekends during ski season.
Packages and Promotions
We offer Gore Ski and Stay Packages as well as other seasonal promotions.
Log House Balcony Rooms
Wake up to a view in one of our balcony rooms. These rooms are stylish and comfort-able, blending Adirondack woodwork with newly renovated bathrooms. Treat yourself to the perfect Adirondack getaway.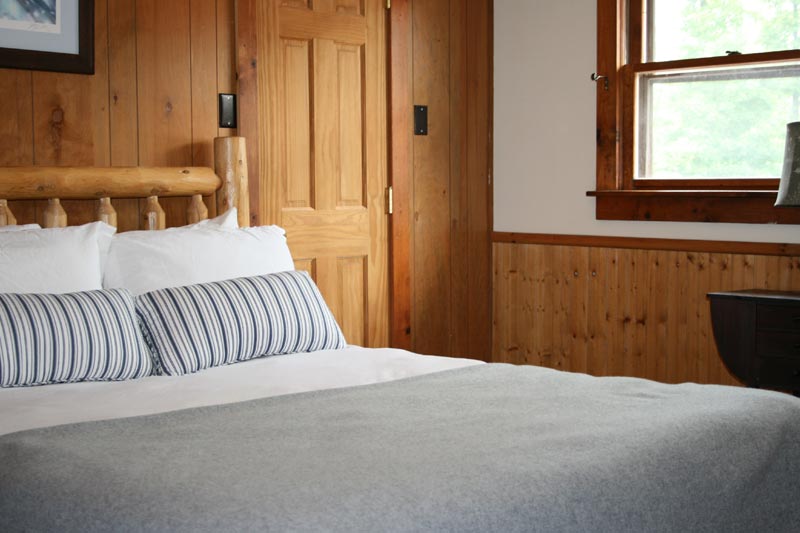 Log House Traditional Rooms
Located on the rear-facing side of the Log-house, these rooms are smaller and cozier than the balcony rooms.
Tea House and Birches Rooms
Located a short distance from the Loghouse, the Birches and Teahouse rooms offer more spacious accommodations than the Log-house. These rooms are ideal for families or groups.