About Garnet Hill: A Historic Adirondack Lodge, Nordic Ski Center & Mountain Bike Park
Garnet Hill is one of a few classic Adirondack lodges that remain today. The lodge or Log House, as it is known, is reminiscent of an Adirondack Great Camp, and the original structure was built in 1936 by Mr. Frank Hooper. Located on a gentle hill overlooking pristine Thirteenth Lake, with miles of private trails and surrounded by forever wild protected state land, the lodge is a special place that offers guests and visitors options for activity, as well as rest and relaxation.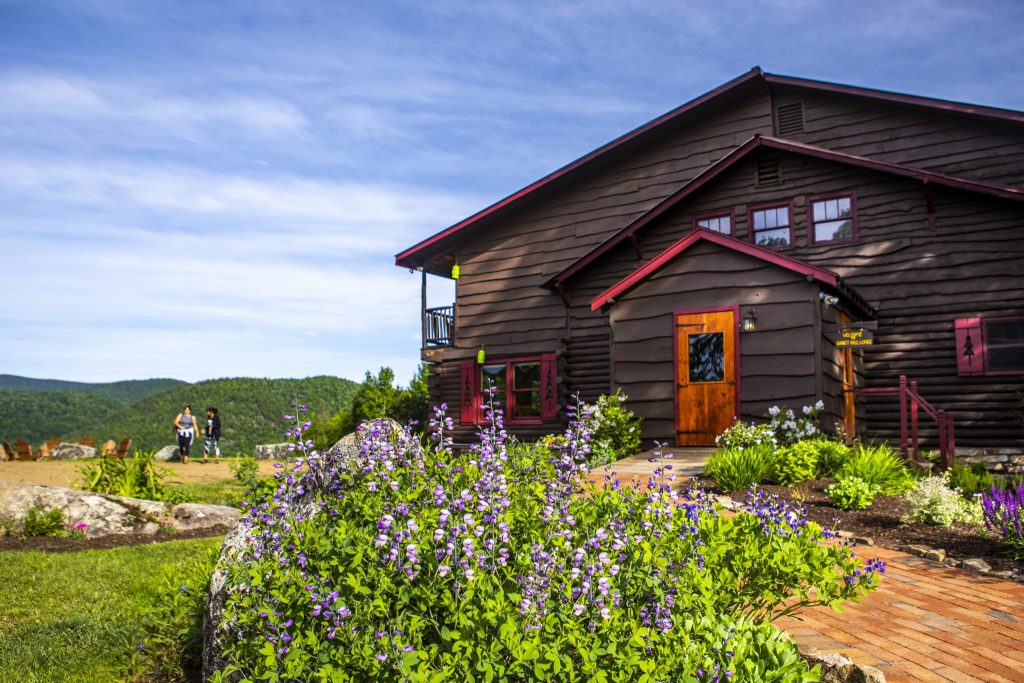 Our rustic Adirondack lodge provides the ideal setting for individuals, couples, and families to escape from the hectic pace of everyday life and surround themselves with the serenity of nature. Our guests can choose to hike, swim, paddle, bike… or just settle into an Adirondack chair on the front lawn and drink in the views with a good book.
Over the years, Garnet Hill has become nationally known for the excellence of its cross country skiing trails and programs, and is widely acknowledged to be one of the very best Nordic ski centers in the country.  Winter opens up 50 km of beautifully groomed cross-country ski trails and countless miles of backcountry and snowshoe trails. As an added bonus, Garnet Hill Lodge is only 15 minutes from downhill skiing at Gore Mountain.
In spring, summer, or fall, 70 miles of marked and mapped trails provide gentle walks, while the rugged mountain scenery presents the experienced hiker with more vigorous routes and climbs. Paddling and fishing can also be enjoyed, with canoes and kayaks available for our overnight guests.  Garnet Hill's ski trails are transformed into an impressive interconnecting network of single-track mountain bike trails with bikes available for half-day, full-day, and week-long rentals. Our overnight guests can enjoy 20% off of mountain and fat tire bike rentals!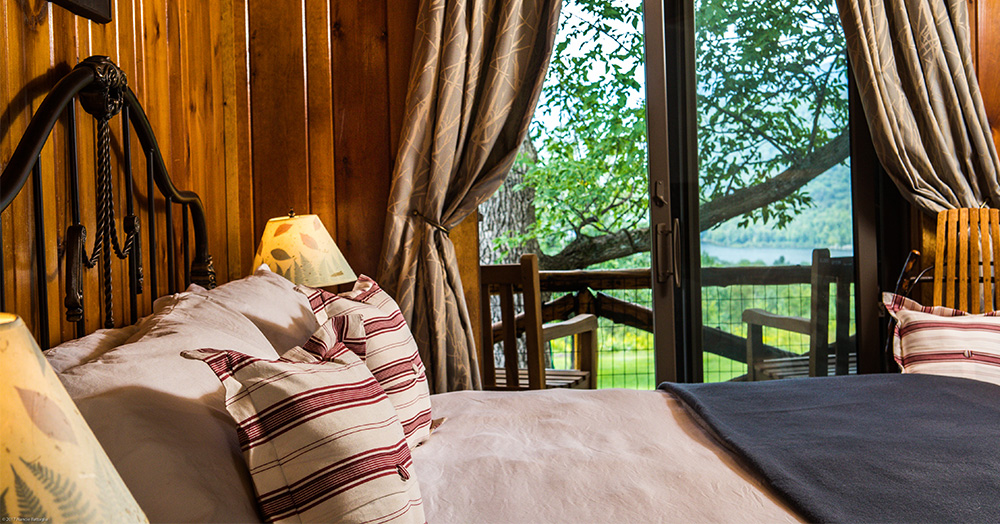 The Log House features nicely appointed guest rooms with private baths and comfortable accommodations for 2-5 people with daily housekeeping. When booking your stay in the Log House, you'll have a choice between Balcony Rooms and Standard Rooms.
A separate family room with a TV, billiards, and board games makes it the perfect place to relax after an active day outdoors.  The lodge has quiet sitting areas for individuals and couples, as well as a family- friendly atmosphere for parents who want to enjoy a special experience with their children.  Wi-Fi is available throughout the main lodge building, and we have four charging stations for electric vehicles in our main parking lot. The Log House is also home to our full-service restaurant, which is open to the public and serves up freshly prepared, hearty cuisine to all.
Two additional lodging options on the property — The Tea House and The Birches Cottages — are a bit more modern, offering spacious rooms ideal for families of 4-5, all with private baths and televisions in the room.
In its picturesque Adirondack setting and rustic environment, Garnet Hill welcomes guests to restore the balance in their lives and step back to more tranquil times. Bask in the seclusion and enjoy all that we have right here on-site or drive to nearby towns of North Creek, Lake George or Lake Placid to enjoy the many activities those areas have to offer.
"Whether it's spring, summer, fall or winter, once you've experienced Garnet Hill, you will want to make it your family tradition."