A Fishing Vacation in the Adirondack Mountains
Posted in Adirondack Mountain and Stream Guides, Fall at Garnet Hill, Spring at Garnet Hill, Summer at Garnet Hill, Things to Do
Now is the time of year when serious anglers are already planning for their perfect spring fishing trip – and what better location to select than the Adirondack Mountains. Home to thousands of lakes, ponds, and rivers teeming with formidable sportfish, the Adirondacks are an excellent destination for some serious angling. In the heart of the Adirondack Mountains with many nearby lakes and rivers and an abundance of scenic beauty, our neck of the woods is an ideal location for some hardcore spring fishing! We are ready to help you plan your ideal fishing getaway in the Gore Mountain Region of the Adirondack Park.
Adirondack Lodging: Basecamp an Excellent Fishing Vacation
Now we don't typically brag, but some of the best freshwater fishing in New York is in our own backyard! Adjacent to the 114,010-acre Siamese Ponds Wilderness area and close to the upper Hudson River, Garnet Hill Lodge has an impressive array of rustically charming accommodations that make the perfect basecamp for any fishing expedition. No matter the time of year, our beloved region remains a quality location for exploring the nearby lakes and rivers. So, whether you are hoping to catch your limit on panfish or snag an elusive lake trout, an Adirondacks fishing vacation promises to deliver.
Adirondack Fishing Guides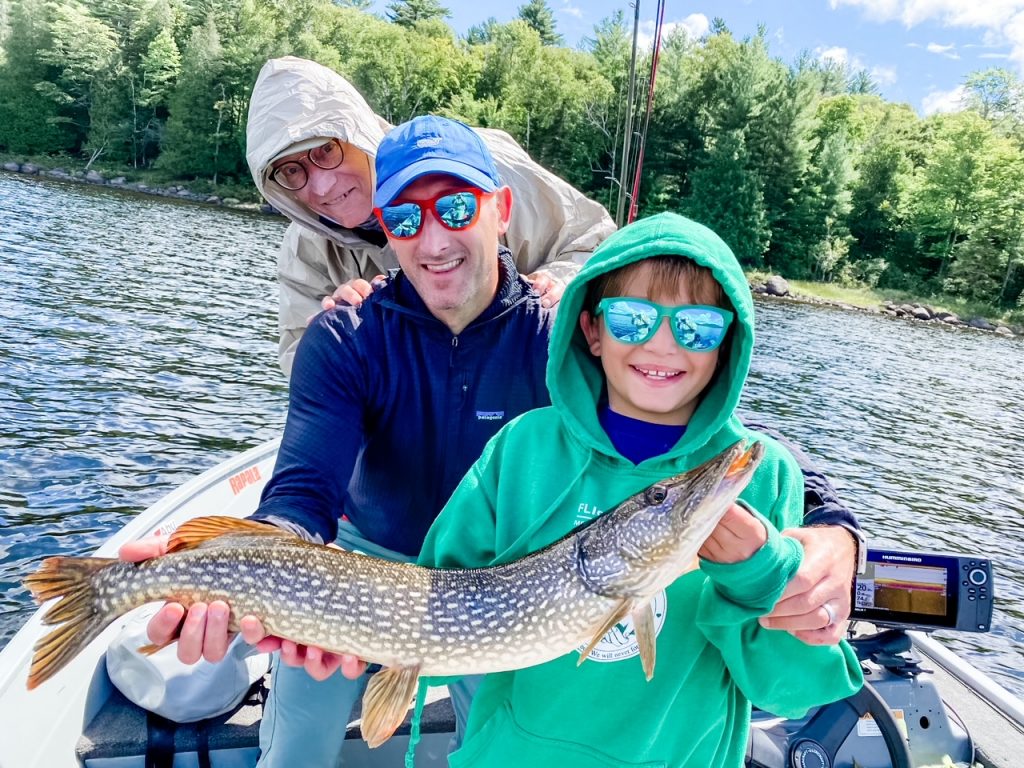 One of the many perks of staying at Garnet Hill Lodge is taking advantage of our exceptional local partnerships. Adirondack Mountain & Stream Guide Service, one of the most reputable outfitters in Upstate New York, has a knack for providing an unforgettable experience for those who enlist them. With over 35 years of business in the guiding industry, Adirondack Mountain & Stream has a staff of experienced guides with a real passion for the outdoors. From remote ponds tucked away in the mountains to well-known lakes only a short distance from the nearest town, Adirondack Mountain & Stream Guide Service has you covered! Whether you are a seasoned angler looking to fish in a new area, or new to the sport, we can tailor a one-of-a-kind, custom fishing trip to suit your exact needs. The exceptional guide service and leader expertise allows you to effortlessly enjoy a true, backcountry Adirondack fishing experience.
About: Garnet Hill Lodge
For decades, Garnet Hill Lodge has been the go-to destination for those hoping to experience a casual and friendly atmosphere while enjoying some of the best outdoor activities the Adirondacks have to offer. Further solidifying Garnet Hill as an exemplary basecamp for adventure is the ease in which guests can experience the Adirondacks' beauty before ever leaving the property. For more information or to find out how you can save on your next trip, please visit us online or call our front desk at 518-251-2444.