Mountain Biking at Garnet Hill Lodge
Looking for a great destination for mountain biking in the Adirondacks?  Look no further!  The single-track bike trails, cross country ski trails, and old roads surrounding Garnet Hill Lodge offer a great variety of mountain bike terrain here in the Southern Adirondacks.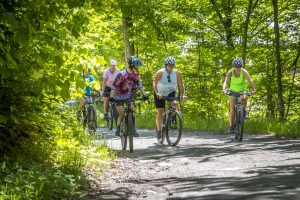 Garnet Hill's mountain biking terrain features 5 miles of new, dedicated single-track mountain biking trails in the Log House Area as well as an extensive network of pre-existing single-track trails, cross country ski trails and dirt and gravel roads.  The new trails were built to the highest standards by Wilderness Property Management, a local expert in the bike world, and designed specifically for mountain bikers.
Some of our bike trails feature fantastic views of the Adirondack's high peaks, while on others, you will find yourself in a serene wooded setting.  After a fantastic time out on the trails, head back to the Bobcat Bar & Grill in our Outdoor Center or the Log House Restaurant up at the Lodge for something to eat.
Book Your Bike Rental             Bike Trail Map
We are now offering guided mountain bike tours every Friday & Saturday for local residents and overnight guests! Tours will be held Fridays at 3 pm and Saturdays at 1 pm, followed by our Yoga for Cyclists class at 3 pm.
Bike Tour Cost:  $10/ $8 for Lodge guests
Yoga for Cyclists Class Cost: $10 or $8 for Lodge guests; $5 for bike tour participants
Giant Hardtail & Fat Tire Bikes – Rentals & Demos
We have a brand new fleet of mountain bikes for the spring 2021 season!  Mountain bike rentals are available at our Outdoor Center using our online rental system below.  Overnight guests should pre-rent bikes ahead of time, and will receive a 20% discount on bike rentals.*
*Note:  Limited Fat Tire bikes available.
Trail Passes & Rental Information
Trail Passes 
Free trail use from April 30 through the start of ski season (late Nov.)
Helmets are provided in our Outdoor Center, and closed toe shoes are required when biking.  Natural wear and tear from use is understood, however users will be responsible for any damages to the bike frame, sprocket, or seats from dropping bikes.
*Lodge guests should pre-rent bikes ahead of time and will receive a 20% discount on Hardtail Mountain Bikes, but will not receive a discount on Demo Full Suspension.  All Lodge guests will receive their discount code via email after booking your reservation and should enter that discount code at the time of checkout below.  If you did not receive your discount code, please call 518-251-2150.
*Once you arrive at the Outdoor Center to pickup your bike rental, your bike rental is nonrefundable.  Bike rentals must be cancelled 24 hours in advance or a charge will be assessed to the credit card.  If you need to cancel a future rental, please call our Outdoor Center at 518-251-2150.
"I enjoyed a beautiful day mountain biking recently at Garnet Hill.  Exactly the type of trails I wanted.  Enough of a challenge without me pondering my fate.  Wilderness Property Management has once again designed trails that allow you to gain elevation while still enjoying the ride.  All the intermediate trails were probably my favorite because I could ride fast (for me) with confidence.  The day ended with a BLT and a cold beer.  Perfect.  I highly recommend Garnet Hill.  The tougher trails will satisfy skilled riders, and the easier trails are a great introduction to mountain biking." – Recent review from a happy biker.