Hooper Loop Hike – Friday 10/13/17
Posted in General, Things to Do
Join Us for a Guided Hike or Kayak Tour This Fall
These fun and informative weekend outings are a great, active way to learn some local history and appropriate for the whole family. Tours are led by our very own hiking guide, Patrick Murray and will meet at the Front Desk.
Offerings for this weekend – 10/13 
Friday 10am—Hooper Mine Loop:
This easy, laid back hike is filled with information on the mine and it's connection to our historic lodge. We will walk from the Ski Shop up to the rim of Hooper Mine, where we will be able to look down into the pit of the old mine.  From there, we will continue on to William Blake Pond. Technically, this body of water is not a real pond and was originally the result of the stream being dammed for mining.  Nevertheless, it makes a great stop on our morning hike as it is a beautiful Adirondack pond and home to plenty of wildlife, including deer and a beaver.
Level—Easy.   Time—Approximately 3 hours.
Call the Front Desk at 518-251-2444 to register.
Cost: Free for guests / $20 for non-guests
To get updates on weekend tours, follow us on twitter @GarnetHillLodge or use the sign-up form below to sign up for our Guided Adventures Newsletter.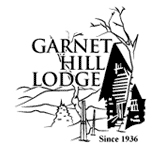 Patrick Murray
Certified River Guide d.e.c.
CPR & First Aid Certified
Back Country Search and Rescue Course