Embracing the Cold: An Adirondack Winter Getaway
Posted in General, Things to Do, Winter at Garnet Hill
Embracing winter is a way of life for those of us living in the Adirondack Mountains of Upstate New York. As autumn departs, the temperatures dip, the days get shorter, the log fires crackle in the fireplace, and we look forward to the first real snowfall. But don't let the frosty air discourage you from enjoying an Adirondack winter getaway!
There's something to admire about the sound of your boots crunching on a fresh layer of snow or the glare of newly formed ice on a lake. Dig out your thermal socks, long johns, and warm hats, and bundle up to make the most of the coldest time of the year. Soon, a winter wonderland will surround Garnet Hill Lodge, and we invite you to participate in the fun! From cross country skiing to snowshoeing, there are plenty of things to do in the Adirondacks this winter.
How to Spend Your Adirondack Winter Getaway
The surplus of solitude is one of the most significant factors to consider for an Adirondack winter getaway. Although there are still plenty of visitors to our beloved region, you'll find plenty of peace and tranquility on our trails.
To help you sort through the countless activities found in our neck of the woods, we came up with five ways to spend your time at our Adirondack ski resort.
5 Ways to Embrace the Adirondack Winter
Garnet Hill Lodge offers seemingly unfettered access to some of the most quintessential winter pastimes in Upstate New York. Visitors from all over the Northeast make the Adirondacks their preferred winter destination, and we're here to show you why! Without further ado, here are five ways to embrace the Adirondack winter at Garnet Hill Lodge.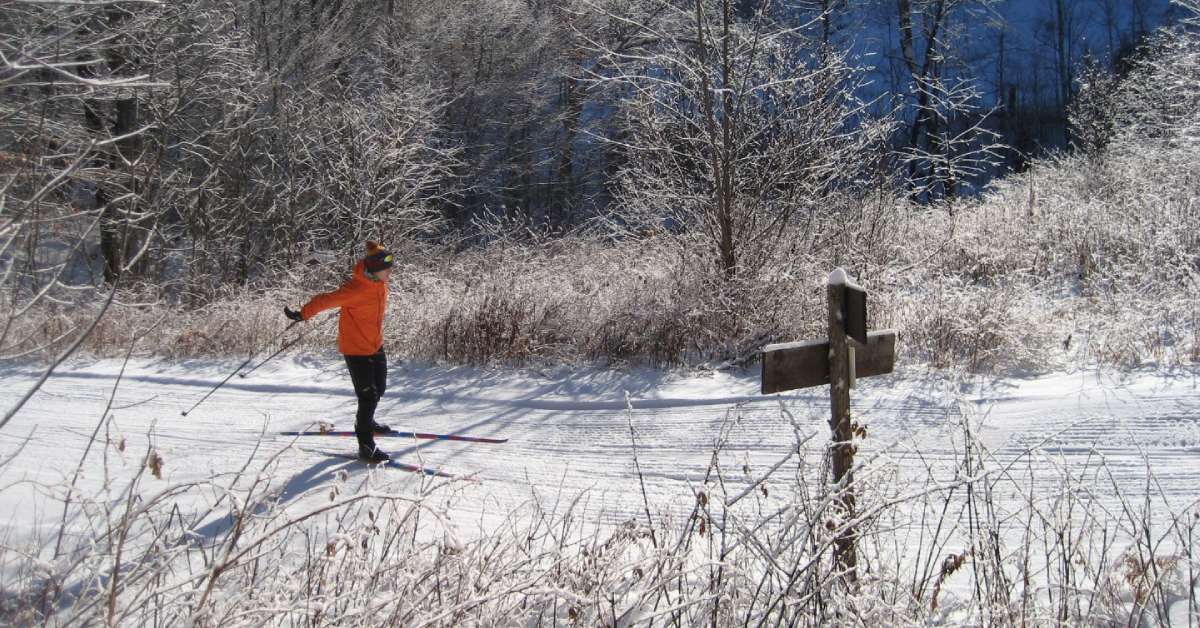 Cross country skiing in the Adirondacks is a healthy way to immerse yourself in the scenic beauty brought on by winter's arrival. With over 55 kilometers of trails that are groomed daily, set tracks, and skating lanes, it's no surprise that Garnet Hill is at the pinnacle of cross country ski centers. We also have ample opportunity for backcountry skiing with backcountry trails accessible right from our Outdoor Center!
Snowshoeing is a fun alternative to cross country skiing that requires no special skills and is a great way to get out and enjoy the winter scenery. We have 15 kilometers of snowshoe trails on property and direct access from our Outdoor Center to numerous trails in the surrounding Forest Preserve.
Downhill skiing and snowboarding at Gore Mountain are adrenaline-fueled endeavors just a short drive away from Garnet Hill. Return to a crackling fire and a delicious dinner after a day on the slopes!
Fat tire biking is a burgeoning winter sport that all outdoor enthusiasts should try. There's no such thing as an off-season with fat tires! If you have your own fat tire bike come try out our trails, otherwise you can rent one from the Outdoor Center.
A digital detox is an easy way for those who feel like a less energetic day to unplug and live in the moment. A few recent studies have shown that excessive device use can lead to higher anxiety and depression rates. The iconic winter scenery in the Adirondack Mountains is just what you need to release yourself from a megapixel overload. Perhaps a day with a good book or an art project is just what you need?
The Ultimate Adirondack Resort
An Adirondack winter getaway could be just what you need to escape the cold weather doldrums and inject some excitement into the winter. The only way to find out is to plan a trip to Garnet Hill Lodge and see for yourself! With a bevy of fun wintertime activities, rustically elegant accommodations, and first class dining, choosing Garnet Hill may be the easiest decision you'll make all year. For more information or to book your stay, explore our website or call 518-251-2444.