Embrace the Chill With Winter Hiking in the Adirondacks
Posted in General, Things to Do, Winter at Garnet Hill
Winter hiking in the Adirondacks is a breathtaking and tranquil adventure where snow-covered peaks, frozen lakes, and peaceful trails await those who are willing to brave the chill. One of the best ways to experience it is by making Garnet Hill Lodge in North River, NY, your basecamp. After a memorable day exploring the wilderness, return to our cozy lodge for a steaming cup of hot cocoa, delicious food, stories around a crackling fireplace, and a peaceful night's slumber.
Best Winter Hiking Trails Near Garnet Hill Lodge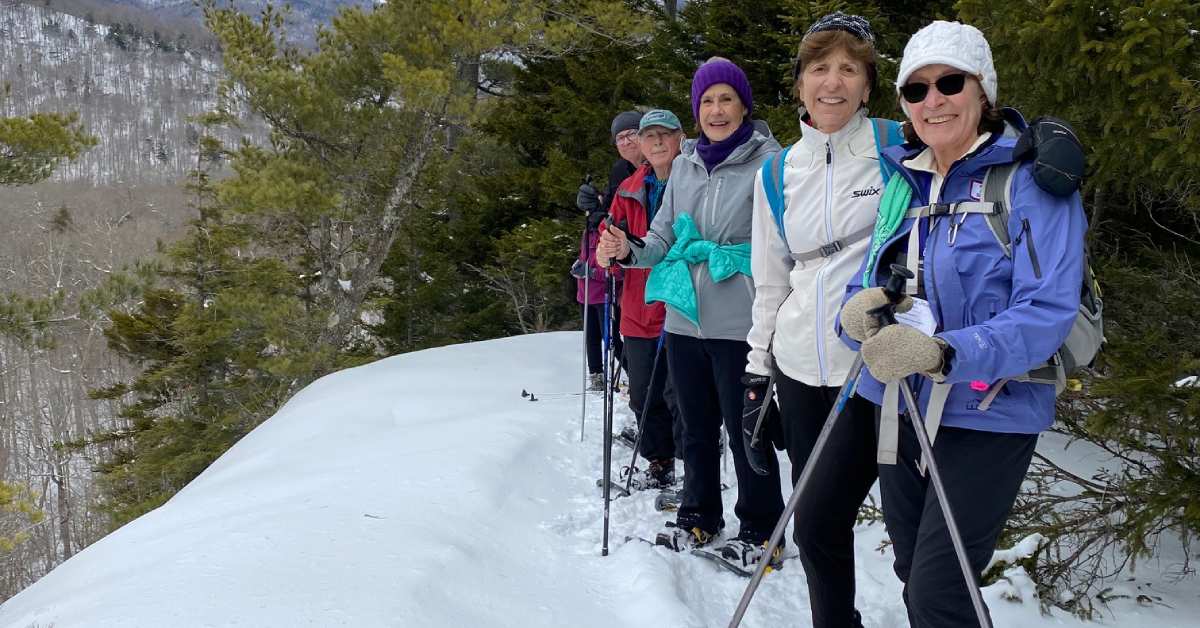 Spanning over six million acres, the Adirondack Park becomes a snow-covered playground during the winter months, attracting hikers, snowshoers, and cross-country skiers looking for an outdoor adventure. Garnet Hill Lodge happens to be nestled in the heart of the region and offers various multi-mile hiking trails right in our backyard and close by.
Additionally, snowshoe rentals are available at our Outdoor Center and Garnet Hill has 10 miles of dedicated snowshoe trails to explore on the property.
However, if you want to venture further afield, here are a few popular trails to consider:
Hooper Mine
For a unique shorter hike to do during the winter, take a trek to Hooper Mine. This hike can be started from Garnet Hill Lodge and has a round trip distance of 1 mile and an elevation gain of 150 feet. History and nature collide in this hike, offering a beautiful perspective of the mining days in the Adirondacks.
Balm of Gilead
Arguably our favorite local winter hiking trail is Balm of Gilead. Our guests can pick up this splendid 2 mile, out-and-back trail from Garnet Hill Lodge's front door. While it's on the shorter side, it features a steeper incline on the trek with 530 feet of elevation gain to genuinely stunning valley overlooks.
Clear Pond
Clear Pond Trail is a scenic, 18 mile drive from Garnet Hill Lodge. The 2.2 mile out-and-back trail to peaceful Clear Pond is relatively flat with a total elevation gain of just 275 feet. Lush forestry and snow-capped mountains enclose the pond.
Watch Hill
Take the Watch Hill Trail to the overlook where there are marvelous views across the valley to Snowy Mountain and to Indian Lake! We recommend turning around at the overlook, as the trail down to the lake is steep. This 3 mile round trip hike is mostly uphill on the way to the lookout and downhill on the way back with a total elevation gain of 400 feet.
Moxham Mountain
One of the best mountains to climb nearby in the winter is Moxham Mountain. It's about a 30 minute drive from Garnet Hill Lodge, but from the top of Moxham there are great views across the Hudson Valley and to the mountains around. The hike is 5.5 miles and has an elevation gain of 1,340 feet. While it's a fair climb to the top, there is nothing overly steep and there are a few nice overlooks along the way.
Come Prepared for Winter Hiking
To start, it's essential to pack the right clothing and gear for winter hiking in the Adirondacks. Weather conditions can be unpredictable, so you need to be prepared for anything. Here's a short list of items to wear for a winter day hike:
Thermal undergarments that wick moisture
Fleece or wool insulating layers
Waterproof or water-resistant outer layers
Thick socks, a winter hat, and gloves or mittens
Waterproof, insulated boots
Snowshoes and/or other traction devices
Secondly, safety should always be a top priority when heading out on an Adirondack winter hike. The challenges of this season require extra precautions to ensure a safe and enjoyable experience. Here are some key safety tips to keep in mind:
Always carry essential gear like a map, compass or GPS, headlamp, and a first aid kit.
Carry plenty of food and water. Being hungry or dehydrated increases your risk of hypothermia.
Weather conditions in the Adirondacks can change rapidly, so always check the forecast before heading out and be prepared for unexpected changes in temperature or precipitation.
Let someone know your hiking plans, including your expected return time.
Always abide by trail closures and warnings.
For a full list of what to wear and bring with you, refer to the New York State Department of Environmental Conservation's Hike Smart NY web page.
If you have any more questions about the area's terrain or any of the hikes, simply ask our on-site staff at the Garnet Hill Outdoor Center for pointers before departure.
Adirondack Lodging For Your Winter Hiking Adventures
Make your winter hiking adventure complete by booking a stay at Garnet Hill Lodge. Our charming lodge offers cozy accommodations and a warm and inviting atmosphere to relax in after a day on the trails. Additionally, the ultra-talented culinary team at our on-site Log House Restaurant will make you feel right at home with a hearty and delicious meal. The menu features spectacular elk strip steak, roast duck breast, and grilled salmon, among other entrees.
And if you're looking for even more fun beyond hiking, you'll be excited to learn that overnight stays at Garnet Hill Lodge include access to our cross-country ski and snowshoe trail system.
Winter hiking in the Adirondacks is an experience that every outdoor enthusiast should try at least once in their lifetime. Whether you're an experienced hiker or a beginner looking to do something new, our lodge has everything you need to make your trip memorable. So, grab your gear, embrace the chill, and get ready to embark on a winter hiking adventure you won't forget.