Top 5 Picnic Locales in the Adirondack Mountains
Posted in Fall at Garnet Hill, General, Summer at Garnet Hill, Things to Do
There is a seemingly endless network of hiking trails in the Adirondack Mountains near Garnet Hill Lodge here in North River, NY. Dozens of hiking trails can be effortlessly accessed from our mountainside property, most of which branch out from our on-site Outdoor Center, a year-round activity hub. Our gorgeous, mountain-view Upstate New York lodge is in the heart of the four-season hiking action, which makes us quite popular among adventure seekers. The Adirondack Mountains are a dream destination for hiking and backpacking enthusiasts, especially during summer and fall. Naturally, hikers of all ages and skill levels typically bring along a mid-day meal to be enjoyed under the golden sunlight at a particularly peaceful location. To ensure that you're adventure-based escape to our rustic Upstate New York lodge is nothing short of flawless, we've compiled five of our favorite picnic locales in the area!
Balm of Gilead Mountain
Not only is the one-mile hike to Balm of Gilead's peak a rewarding, rejuvenating journey, but you can access the trail-head from our beautiful Upstate New York lodge! This two-mile, out-and-back trail gradually rises in elevation past babbling brooks, birch trees, and unique rock formations. Throw a blanket down in a secluded spot along the copper-colored cliff's edge and enjoy your delicious picnic – it's hard to top turkey sandwiches, chips, fruit, and a sports drink on a warm summer afternoon! If you don't want to worry about packing your own picnic basket, ask our front desk and the kitchen will make it for you.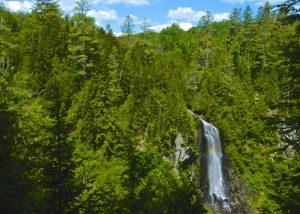 OK Slip Falls
If you're hoping to spend several hours meandering through the wilderness in search of a tall, majestic waterfall, look no further than the OK Slip Falls Trail located in North River, NY. After a rejuvenating three-mile hike, you'll discover one of the highest waterfalls in the Adirondacks. There are several smooth spots to throw a blanket down and enjoy a well-deserved picnic. The tranquility of this valley is magical during summer and fall.
Thirteenth Lake
Our mountainside Upstate New York lodge is just a moderate one-mile stroll from Thirteenth Lake. There are dozens of interconnecting trails that carve through the Adirondack Mountains within earshot of Thirteenth Lake. The lake itself covers 329 acres, so there are several ways to discover the serene beauty of this hidden gem. Upon arrival, ask about the best ways to get to Thirteenth at the Outdoor Center.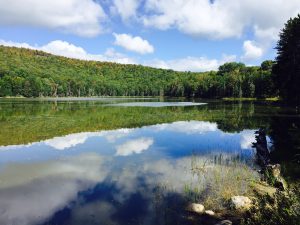 Elizabeth Point
It's hard to top the serenity inside the Siamese Ponds Wilderness, especially if you're searching for a combination of deep forestry, sprawling lake views, and seclusion. Not only does Elizabeth Point supply adventurers with one of the best lookouts along Thirteenth Lake, but there's ample space for a quiet picnic. Being that this out-and-back hike is approximately two miles in total length and the elevation changes are minimal, a lot of hikers will bring along their faithful pups!
Gorgeous Upstate New York Lodge
Last but certainly not least, Garnet Hill Lodge's spacious lawn (highlighted by mountain views, Adirondack chairs, and a hand-crafted gazebo) is the perfect place for a mid-day picnic. We also have on-site dining at the Log House Restaurant and Pub for those who wish to enjoy a meal in the comfort of our rustic yet luxurious Adirondack lodge. There's no better time than right now to start booking your next Upstate New York getaways! Give us a call today at 1-518-251-2444 to a book well-deserved escape to Garnet Hill Lodge.