Weddings at Garnet Hill Lodge: We're More Than a Venue!
Posted in General
Have you been dreaming of the perfect Adirondack wedding? A rustic venue with breathtaking scenery, locally sourced fare, and your favorite people gathered all in one place? At Garnet Hill Lodge, we provide all that and more, including year-round, on-site activities that will wow your wedding party and guests, and keep them buzzing about your wedding long after the festivities end.
It's an Authentic Adirondack Experience for Everyone – All Weekend Long
Just as we're more than a venue, your wedding is more than a ceremony and a reception. It's a full weekend of fun, from the rehearsal dinner the night before, to a farewell brunch the morning after, and everything in between.
Wedding parties at Garnet Hill Lodge reserve the entire inn for two nights, so you and your guests can experience all our resort has to offer throughout your special weekend. You'll have plenty of time to enjoy on-site activities, sneak away for some much needed downtime, and visit with your guests.
Take Advantage of On-Site Activities at This Four-Season Destination
We have fun things to do on our pristine 175-acre property all year long! Summer and fall is peak season with guided hikes and kayak tours, canoeing, fishing, and mountain biking. Our staff can also help to organize off-site adventures you may be interested in, like whitewater rafting. On-site winter activities include the use of 55km of cross-country ski and snowshoe trails.
With the whole weekend to explore the property, you and your guests might check out outdoor activities on Friday before the rehearsal dinner or on Saturday morning or afternoon. In fact, the Log House Restaurant can even prepare bagged lunches for you and your guests, if you'd like to use this time to head off and go hiking on our trails or boating on Thirteenth Lake.
Get the Details You Need to Know & Start Wedding Planning!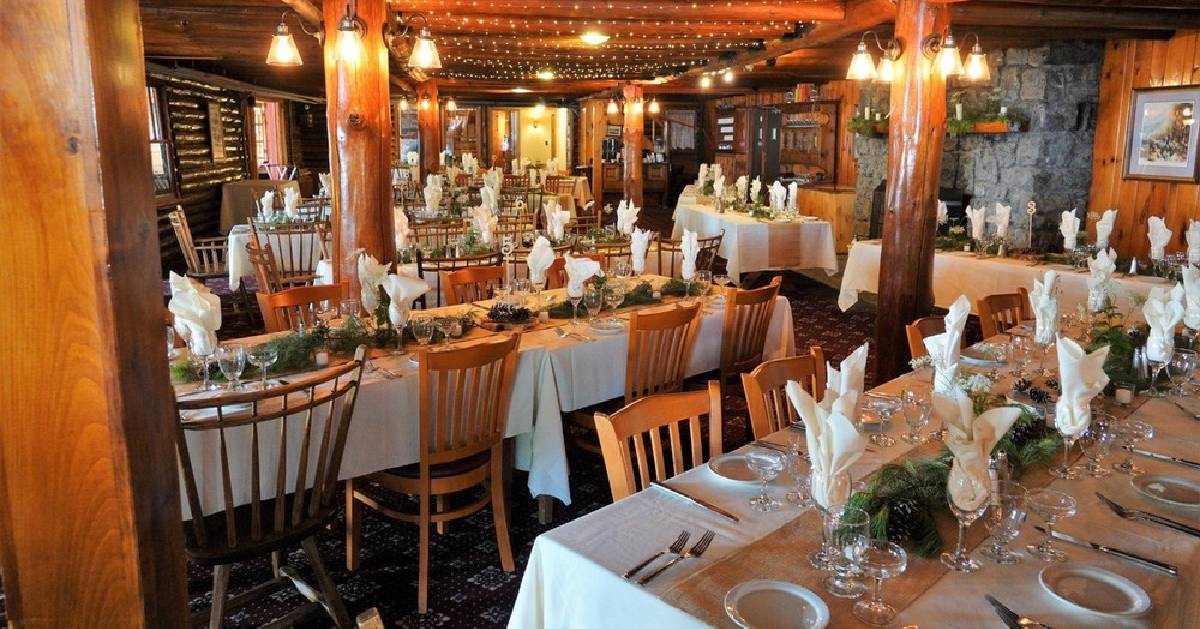 Outdoor weddings are available in late June, September, and October, and they can feature a ceremony overlooking the mountains, a delicious reception at the Log House Restaurant, and dancing under the stars in a tent on the front lawn. We can accommodate up to 130 guests for an outdoor wedding.
Indoor weddings are offered November through early June, when we can accommodate up to 75 guests in the Log House. The ceremony, dinner, and dancing all take place with the backdrop of a garnet stone fireplace and wooden beams that exude the Adirondack ambience you're looking for. And, we do offer deals for "off season" weddings!
Regardless of how you choose to customize your dream wedding, a member of our team will serve as your Wedding Coordinator and work with you on decorations, logistics, day-of coordination, and overall planning.
We are currently booking weddings for 2022, so reach out to start creating those special memories today!