Now Open for Lodging Guests
Posted in General, Newsletters
Posted: 5/26/2020, Last Updated 7/7/2020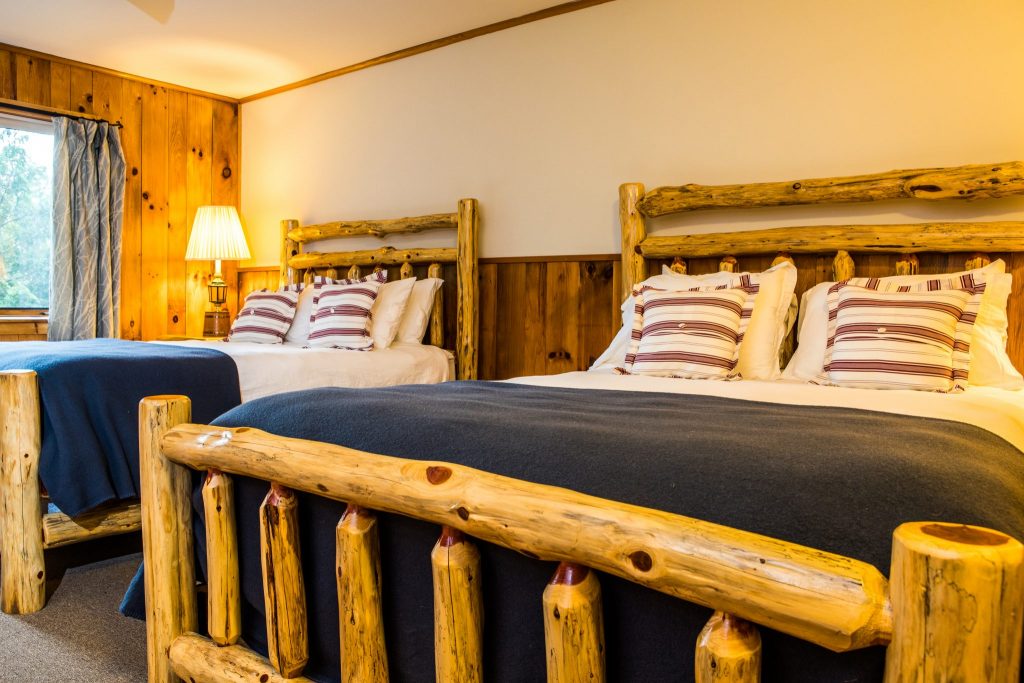 We are pleased to announce that we are now open to lodging guests.  We have opened the Birches and Tea House Cottage Rooms to lodging guests for the month of June and expect to reopen Log House Rooms on July 1.  Garnet Hill is and always will be a mountain retreat, where outdoor activities are the highlight of your stay and our accommodations provide a cozy place to get away from it all surrounded by nature.  Now more than ever, Garnet Hill Lodge is the place to go to enjoy a fantastic, safe and revitalizing vacation with your family this summer.
Tea House Rooms
Our Tea House Rooms each feature private entries.  No shared corridors, no shared front door, no shared spaces period.  Nestled in the woods, this building is just a short walk to the Outdoor Center and Bobcat Bar and Grill.  This building also features two different configurations of interconnecting rooms that are ideal for families who need more than one room. Call (518) 251-2444 for more information or check availability online.
Birches Rooms
The Birches Cottage can be rented as a unit with its own living room and kitchen, or as separate rooms.  Room 25 has a private entrance, while rooms 21 through 24 share an entrance. Call (518) 251-2444 for more information or check availability online.
House Keeping
Your room will be cleaned and sanitized prior to your arrival.  During your stay, for your safety and ours, housekeeping will not enter your room.  However, we will be happy to provide you with fresh towels and anything else you might need during your stay.
Restaurant Services
Though the Log House kitchen remains closed for renovations, we continue to offer dining services at the Bobcat Bar and Grill and under the Log House Tent.
We are pleased to offer daily breakfast service at the Log House for overnight guests.  The Bobcat Bar and Grill (located in the Garnet Hill Outdoor Center) is open daily for lunch and dinner, offering take-out and outdoor dining.  Join us on Friday and Saturday evenings for cookouts, clambakes and BBQs under the tent on the Log House Lawn.
For more information please visit our dining page.
Outdoor Center Activities
Down by the lake, the Garnet Hill POA Beach is open to overnight guests for swimming and paddling.  Canoes and kayaks are available for use by guests.
Bikes are available free of charge for overnight guests, and can be picked up from the outdoor center.  Rental fees are posted on our mountain biking page for day trippers.  Head out the door and enjoy exploring our 55km trail system as well as the dirt roads in the area.  Each bike will be cleaned and sanitized prior to each use.
Go for a hike on one of our own trails or one of the numerous trails on state land with trail heads at Garnet Hill.   It is not unusual around here to spend a day out on the trails without seeing another group.  Social distancing doesn't get much easier than that!
Other Safety Measures
If you have been visiting Garnet Hill for years, as many of you have, you know that we pride ourselves on being a friendly and welcoming place to spend your hard earned vacation.  While things may be a little different this time, please know that although we are all working hard to adjust to a new normal, we are still here to help you in any way we can and are thrilled that you have chosen to come to Garnet Hill Lodge.  When you arrive, here is what you can expect for now (updates to these policies will be made as appropriate):
All team members will be wearing a mask for their safety and the safety of our guests.  We ask that guests also wear a mask in public areas and do their best to maintain a 6ft distance between themselves and other family groups.
Hand sanitizing stations are available at key areas throughout the property
In order to ensure "touchless" payment and minimize contact needed to check-in to your room, all room payments will be finalized before arrival.  New reservations will require full payment up front.
Keys will be sanitized before being provided to guests at check-in.
Check-in will be at the front desk, one person at a time will be permitted at the front desk.
Keys will be returned to the box by the front desk upon departure.
Sports equipment, including bikes and paddles will be sanitized prior to each use.
Garnet Hill Lodge has signed the Lake George Region Health and Safety Pledge.  For more information about staying at Garnet Hill Lodge during the current situation, please visit our COVID-19 Information for Lodging Guests page.
Mandatory Quarantines
Please note that New York State is currently requiring a mandatory 2-week quarantine for visitors from certain states.  Please refer to the New York State Website for more information and a list of affected states.  This mandatory quarantine must be completed prior to your stay at Garnet Hill Lodge.