Splash into Summer: Spending Time on Thirteenth Lake at Garnet Hill Lodge
Posted in Summer at Garnet Hill, Things to Do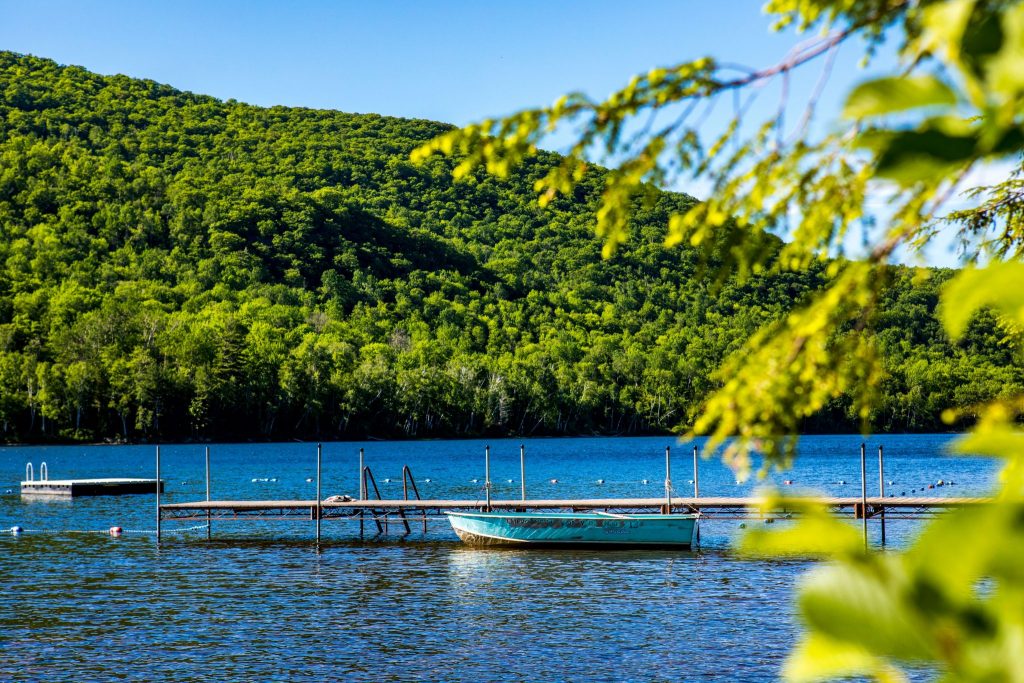 There's no denying it—summer is here and the warmer temperatures are here to stay.  What better way to spend a hot summer day than enjoying Thirteenth Lake, nestled in the heart of the Adirondack Mountains?  With crystal clear water fed by streams running down from the surrounding mountains, Thirteenth Lake measures two miles long and half a mile wide.  Surrounded by forever wild forest and with no motorboats allowed on the lake, you'll find peace and quiet as well as gorgeous mountain views.  
Garnet Hill Lodge is tucked away in the mountains of Upstate New York, near the Hudson River and Gore Mountain.  Our location in the Adirondacks makes our four-season resort ideal for any and all outdoor enthusiasts.  Whether you're looking for a relaxing getaway or an active trip this summer, there is something for everyone to enjoy on Thirteenth Lake. 
Explore Thirteenth Lake By Kayak or Canoe
Our guests have access to an abundance of outdoor and wilderness activities.  Tucked away on the edge of the Siamese Ponds Wilderness area, our Lodge is ideally positioned to give guests an immersive outdoor experience.  With private access to pristine Thirteenth Lake, our guests can enjoy a variety of outdoor activities without leaving the resort area, including canoeing, kayaking, fishing, and paddle boarding.  We maintain a fleet of canoes and kayaks for the exclusive use of our guests, along with paddles and life jackets.  Go canoeing or kayaking with one of our boats and explore the many quiet and beautiful spots along Thirteenth Lake's pristine and uninhabited shores.  Search for loons, osprey, eagles and beavers as you glide along the lake.
Guests can also paddle across the lake to hiking trails that lead up to Peaked Mountain, Hour Pond or Puffer Pond. These treks make for excellent day-long adventures, and you can even purchase a packed lunch from our Lodge to take along with you.
Thirteenth Lake is well stocked with fish allowing anglers to bait and hook plump brown and rainbow trout.  For anglers who would rather venture further afield, there are many other local fishing options and our Outdoor Center can arrange for guided trips including both fly fishing and trolling adventures.
Unwind with a Delicious Meal (Lake or Trail-Side – The Choice is Yours)
After a day on the water, return to our Log House Restaurant for a gourmet meal, a local craft beverage, and some of the most beautiful lake views.  Our menu features everything from succulent elk strip steak to grilled striped bass and smoked pork belly.  Our Bobcat Bar & Grill, located on the second-floor of our Outdoor Center, also serves up delicious lunch and features local, craft beers with specials every Friday through Sunday.  
Find Out More & Book Your Stay Today
The Adirondack Mountains are our adventure playground here at secluded Garnet Hill Lodge, and we cannot wait to show you around. For more information on how to best explore Thirteenth Lake, or to book your stay, please call 518-251-2444 or click here.