Why Garnet Hill Lodge Is a Must-Visit Mountain Biking Destination
Posted in Spring at Garnet Hill
Whether you're looking to get some fresh air, reconnect with nature, or explore the outdoors, a mountain biking adventure is just what you need. It's one of the most popular activities in the Adirondacks, and our vast trail network is a mountain biking destination open to both overnight guests and day visitors.
Ready for one of the best mountain biking experiences in the Adirondacks? Learn more about the trails and our fleet of mountain bike rentals below.
Discover a Peaceful Wooded Setting That's Perfect for Riding
Even if you've skied or snowshoed at our Lodge during winter, it's a whole new world when our trail network is open for mountain biking. From spring into fall, you can discover a mountain biker's paradise featuring single-track bike trails, cross-country ski trails, and old dirt and gravel roads.
The mixed terrain will bring you through dense woods filled with towering trees, along peaceful paths, and to scenic views. There are trails for all skill levels and members of the family, so you can choose to follow an easy route or challenge yourself on some hilly sections that will really get the heart pumping.
In addition, we have 5 miles of new, dedicated single-track mountain biking trails in the Log House area that were professionally made to the highest standards by Wilderness Property Management, an expert in the bike world. The trails are named Log House Loop, Paradox, and Double Downs.
Map Out Your Mountain Biking Adventure Ahead of Time
With countless trails to explore, we recommend checking out our Bike Trail Map ahead of time so you can plan out the perfect route. The trails are accessible from both the Log House area and the Outdoor Center, but from there, it's up to you to decide where to go. Our team at our Outdoor Center is also readily available for route recommendations, and can help guide you in the right direction based on your skill level.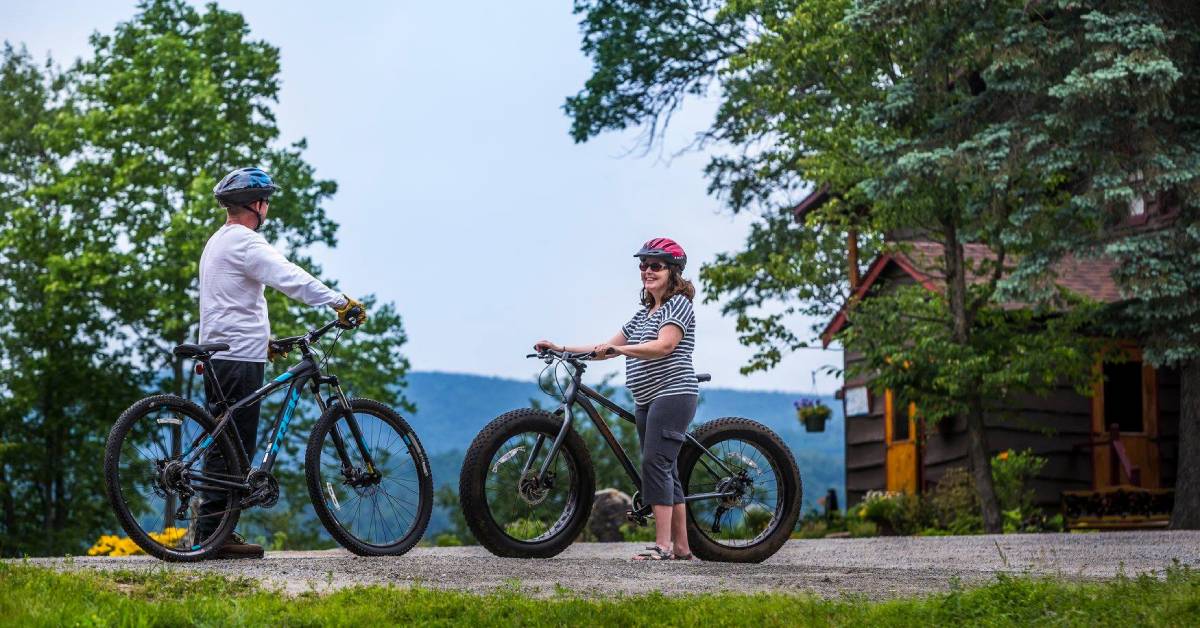 For families or groups who have been mountain biking before, the Log House Loop is an excellent place to start as it's a nice flowy trail that will take you around our main Lodge. Another great option is Old Faithful, a double-track loop (ski trail) that's ideal for beginners thanks to the gentle terrain.
Would you like to see some amazing views during your adventure? Starting from the Outdoor Center, bike toward The Tailings and climb up toward Skullbuster Hill. You'll be rewarded with a view of the High Peaks in the distance.
At the end of your ride, you can wind down and refuel with some delicious food and drinks from the Log House Restaurant.
Take Advantage of Our Fleet of Bike Rentals
Mountain bike owners are welcome to visit our trail network for free from April 30 through the start of ski season in late November. However, if you don't own a bike, then we have you covered. We have a new fleet of Hardtail Mountain Bikes that you can rent at our Outdoor Center for a half day, a full day, or an entire week. Rentals are available for lodging guests for a discounted rate, and helmets are provided.
Our bikes are conveniently available to rent online, so they will be ready for you upon arrival. Just click here to reserve yours.
Plan a Memorable Mountain Biking Getaway to Garnet Hill Lodge
Are you ready for a getaway? We're offering all lodging guests a 20% discount on our Hardtail Mountain Bike rentals to encourage people to enjoy the great outdoors while they're here. If you're bringing your own bikes, we have bike racks set up so you can safely secure them.
Mountain biking is an exhilarating activity that must be experienced during your time in the Adirondacks. Plan your next trip to Garnet Hill Lodge today!