Start Your Spring Off Right With Water-Themed Fun at Garnet Hill Lodge
Posted in Spring at Garnet Hill
Make Garnet Hill Lodge your home base for water-themed fun as you get outdoors this spring in the Adirondacks! Paddle and fish right here with us, then check out the many whitewater rafting options close by.
Don't Wait Until Summer to Get Out Paddling!
Want to explore unspoiled spots and uninhabited shores? Plan a paddling trip to Thirteenth Lake, a short walk from our Lodge. The 2-mile-long, .5-mile-wide lake is small enough to stay intimate and secluded, but large enough to get in a solid water-fun-filled excursion.
Guests of our Lodge can make use of complimentary kayaks or canoes. Head off on your own adventure or let us set you up with a knowledgeable guide. The adventure is yours for the taking. 
And, for a quintessential Adirondack experience, add a hike onto your paddling trip. Picturesque mountains surround Thirteenth Lake, allowing for the unique opportunity to paddle straight to trails that lead up to Peaked Mountain or Hour Pond.
Love Fishing? Thirteenth Lake Is Stocked Full
Speaking of add-on activities to your paddling trip, Thirteenth Lake is a sanctuary for anglers. The DEC stocks the lake each spring with freshwater salmon, lake trout, and brown trout.  The fishing season lasts throughout the spring, summer, and early fall, and as with paddling, you can be the captain of your own boat or opt for a guide.
We have a partnership with the reputable Adirondack Mountain & Stream Guide Service, who have over three decades of experience providing backcountry fishing excursions. They can tailor a fishing excursion to everyone from beginners to seasoned anglers.
For the Extra Adventurous: Nearby Whitewater Rafting
Here's one more bonus idea for water-themed fun this spring: You can stay with us and enjoy all our on-site amenities and perks, and then check out whitewater rafting close by.  Adirondack River Outfitters, Beaver Brook Outfitters, Hudson Rafting Company, North Creek Rafting Company, and Square Eddy Expeditions are all highly reputable whitewater rafting companies located less than 20 minutes from our Lodge.
Bear in mind, early spring is a time for more experienced or advanced whitewater rafters, and late spring is more beginner- and family-friendly. All the whitewater rafting companies have high ratings in part because of their customer service, and our team is standing by to help coordinate your adventure. 
Simplify Your Trip & Ensure You Have Everything You Need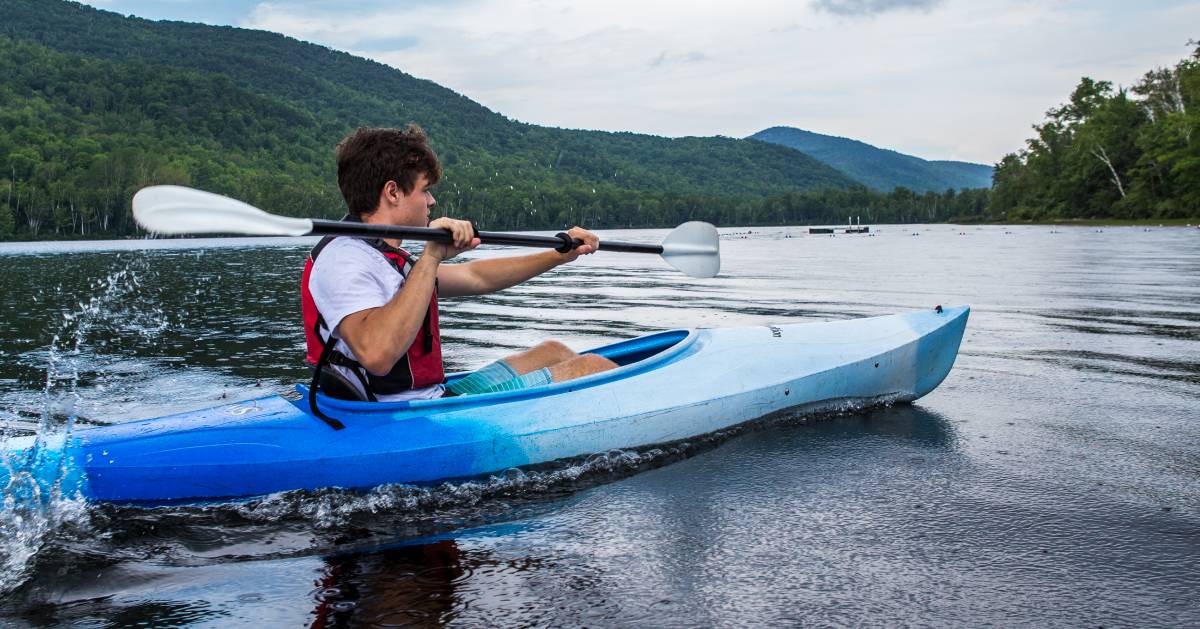 It's easy to plan your water-themed trip to the Adirondacks at Garnet Hill Lodge. We offer comfortable accommodations, on-site dining (and to-go options for picnic lunches while paddling), and we have an entire fleet of canoes and kayaks available free for guests to use – simply sign them out of our Outdoor Center anytime from dawn to dusk.
With the boats, gear and optional guides, you'll have everything you need for the ultimate paddling experience in one of the most pristine locations in the Adirondack Park.
So whether calmer waters are your thing this spring or you're ready to ride the rapids, make sure to book a weekend or midweek getaway with us at Garnet Hill Lodge.